Signature Academy Application
The Signature Academy Application for the 2023-24 school year will open on January 10, 2023 at 6:30 PM.
Before you apply here are a few things you need to know:
This application is for 8th grade and Barton Academy 9th students only!

You will need a Google email account to apply.

Transcripts should only be sent for

Non- MCPSS students

within 7 days of submitting your application. All

transcripts

must be emailed to cminto@mcpss.com.

Your application will not be processed without your transcript.

The Application will only allow you to apply to a maximum of two(2) programs. Please list the schools in the order of importance(the school/program you would like to attend most should be listed first).

A Google email address will be required to complete the application. Email is our primary method of communication.

A student can only submit an application once.

There will be

NO

transportation provided for Signature Academy Transfers.
The deadline to apply is February 2, 2023.

Thank you for your interest in applying for a Signature Academy.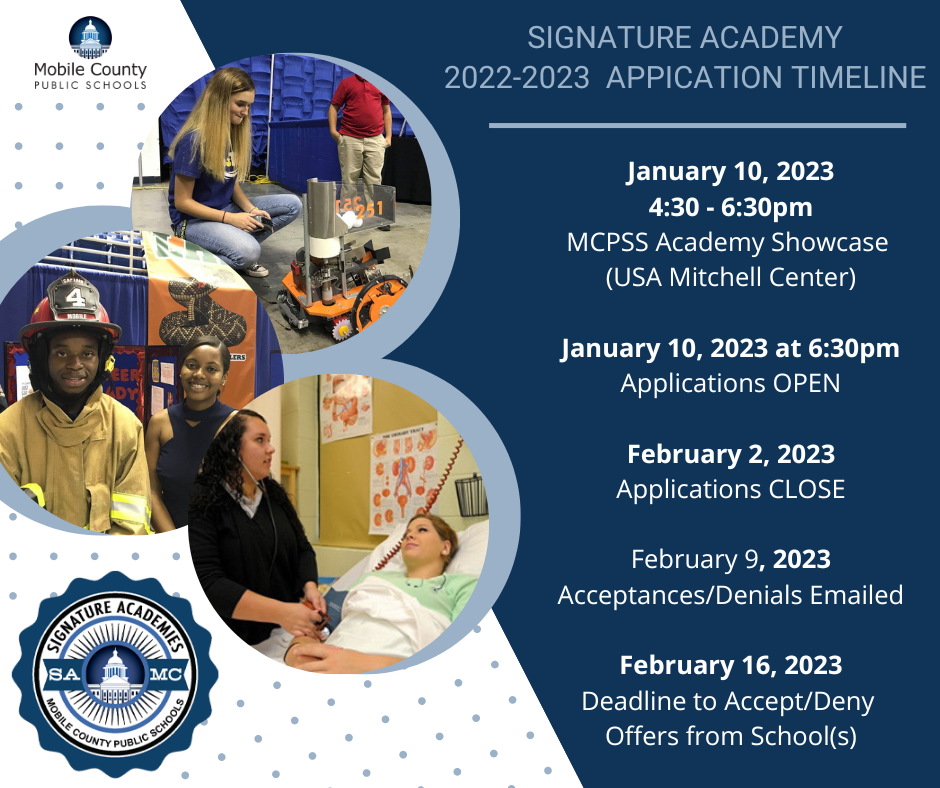 Important Dates:
Application period: January 10 - February 2, 2023
Acceptance/Denials Emailed: February 9, 2023
Seat Offers Open: February 9th through February 16th (students will be emailed a link to accept/decline offered seat.)
Student MUST accept/decline seat offer by February 16th or their position will not be saved.
Please contact Claire Minto at 251-221-4029 or cminto@mcpss.com

, if you have any questions.